2023
Making Strides Against Breast Cancer Golf Tournament
Over the past three decades, the American Cancer Society Making Strides Against Breast Cancer (MSABC) campaign has united communities, companies, and individuals and has grown into the nation's largest and most impactful breast cancer movement.
These 3- to 5-mile noncompetitive walks provide a supportive community for courageous breast cancer survivors and people living with metastatic breast cancer, caregivers, and families alike.
This year, Making Strides events will take place in more than 150 communities nationwide. Together, we raise funds for lifesaving breast cancer research and are committed to advancing health equity through essential programs and services.
Join the movement and be the hope to help end breast cancer as we know it, for everyone.
Please fill out the form below to sign up your team.
If you would like information on sponsorship or would like to donate please contact Meg Smith Directly – Meg.Smith@atriumhospitality.com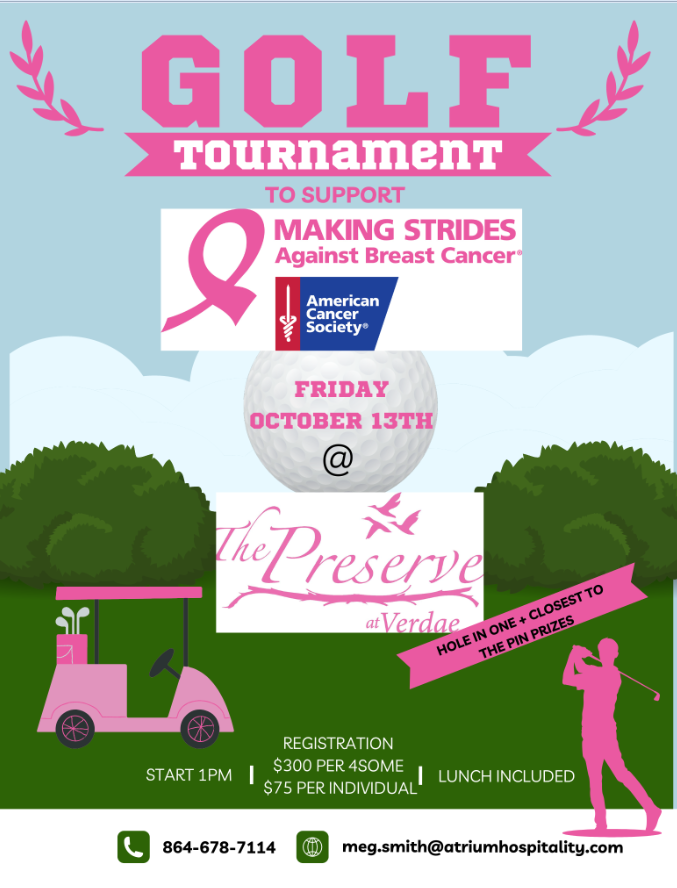 There will be a confirmation email sent 3 days in advance of the event to verify teams and handicaps. after completing the form an automated confirmation email will been sent to the email address provided, please check all folders in your inbox for the confirmation. Thank you.